Back
Making the difference
The new MA 8Port Node and MA 4Port Node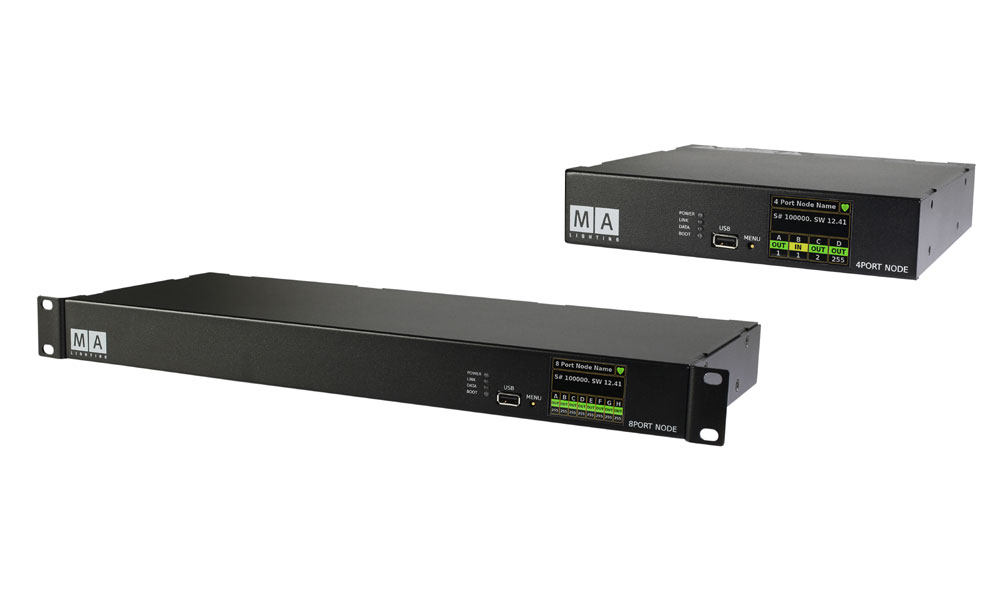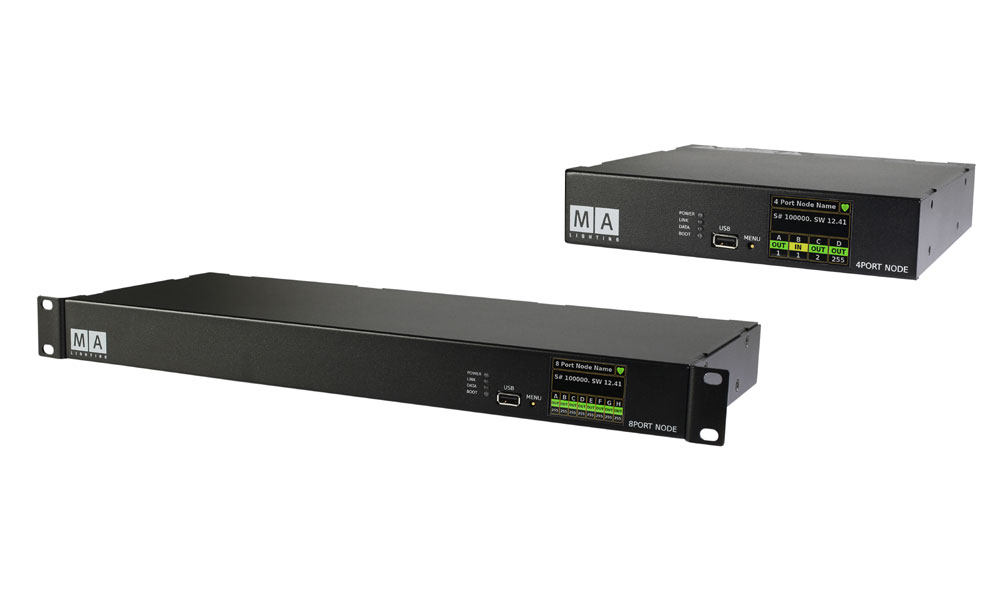 With the increasing requirements of clients and designers in both fixed installations and events/concerts, the need for sophisticated solutions for signal transportation and data distribution is inevitable. Also, latest technical developments and requirements have to be met.

The MA 8Port Node and MA 4Port Node set an additional benchmark in MA Lighting's networking product range as they feature the 1Gbit capability. They allow the conversion of Ethernet data into DMX or vice versa and fit perfectly into the MA system and its MA-Net2 protocol which is based on this high speed to ensure maximum performance.

Optimised for touring and installations purposes, both have a rugged steel housing for a long life even under harsh conditions. The front panel offers a menu button, a USB connector and a 2" colour TFT as well as LEDs displaying the current status. All of these ensure a comfortable operation. The mains switch is located on the back, along with the powerCon and Ethercon connectors, as well as the eight (MA 8Port Node) and four (MA 4Port Node) DMX ports.

The MA 8Port Node and MA 4Port Node are fully configurable from the grandMA2 consoles or from grandMA2 onPC. To achieve the highest flexibility, each DMX port can be individually configured as DMX-in or DMX-out.

Both models are also available as "onPC" versions, meaning that the MA 8Port Node onPC and MA 4Port Node onPC can be used in combination with the free-of-charge grandMA2 onPC software running on a computer to provide 2,048 parameters. Using this set up, MA´s onPC Nodes turn your computer into a powerful show controller and also a handy backup solution. Furthermore MA 8Port Node onPC and MA 4Port Node onPC can be combined with the MA onPC command wing and MA onPC fader wing for parameter expansion.

While the MA 8Port Node is available as a 19"/1HU version with all connectors located on the back, the MA 4Port Node is available in different fittings for adapting to multiple applications. First there is the basic version based on a 9"/1HU housing, where all connectors are located on the back. Additionally an add-on fitting is available to mount this basic version into a 19" rack. Second a special fitting can be used where all connectors on the back of the MA 4Port Node are mirrored on an additional front panel for an easier access when rack-mounted. Third possibility is to combine two MA 4Port Node for rack use by adding rack mounting brackets and a special threaded fastener between the two single MA 4Port Node units. Fourth option is the additionally available rigging plate for mounting couplers or clamps on the MA 4Port Node.

Here you can find out more about the MA 8Port Node und MA 4Port Node.
Further news